Review: Leptospirosis in Dogs in Indonesia
Keywords:
dogs, Leptospira sp., leptospirosis
Abstract
Leptospirosis is an infectious disease caused by motile bacteria of the genus Leptospira. The prevalence of leptospirosis in dogs in Indonesia ranges from 13,8% - 44%, with Leptospira variants including the serovars Ichterohaemorragiae, Celledoni, Canicola, Pyrogenes, Cynopteri, Rachmati, Bataviae, Javanica, Grippotyphosa and Tarrasovi. Leptospira sp. can be transmitted through direct contact with an infected animal, soil or water contaminated with Leptospira sp. Rodents, pigs, horses, farm animals, dogs and various wild animals such as squirrels and deer can serve as carriers of Leptospira sp. Clinical symptoms of leptospirosis in dogs in Indonesia include fever, lethargy, anorexia, vomiting, jaundice, kidney disorders, dyspnea, polyuria, yellow urine, dehydration and death. The gold standard for leptospirosis testing in dogs is the MAT test, but the PCR and ELISA tests have higher sensitivity. Prevention of leptospirosis in dogs can be done by vaccination, routine disinfection of dog house and preventing dogs from direct contact with reservoir animals such as rats
References
Adin, C. A. and Cowgill, L. D. 2000. Treatment and outcome of dogs with leptospirosis: 38 cases (1990-1098). Journal of the American Veterinary Medical Association. 216(3):371–375.
Adler, B. and Klaasen, E. 2015. Recent advances in canine leptospirosis: focus on vaccine development. VMRR.6:245-260.
Arent, Z. J., Andrews, S., Adamama-Moraitou, K., Gilmore, C., Pardali, D., Ellis, W.A. 2013. Emergence of novel Leptospira serovars: A need for adjusting vaccination policies for dogs? Epidemiology and Infection. 141(6):1148–1153.
Benacer, D., Who, P. Y., Zain, S. N. M., Amran, F., Thong, K. L. 2013. Pathogenic and saprophytic Leptospira species in water and soils from selected urban sites in peninsular Malaysia. Microbes and Environments. 28(1):135–140.
Bierque, E., Thibeaux, R., Girault, D., Soupé-Gilbert, M. E., Goarant, C.. 2020. A systematic review of Leptospira in water and soil environments. PLoS ONE. 15(1):1–22.
Budihal, S. V. and Perwez, K. 2014. Leptospirosis diagnosis: Competancy of various laboratory tests. Journal of Clinical and Diagnostic Research. 8(1):199–202.
Bulach, D. M., Zuerner, R. L., Wilson, P., Seemann, T., McGrath, A., Cullen, P. A., Davis, J., Johnson, M., Kuczek, E., Alt, D. P, et al., 2006. Genome reduction in Leptospira borgpetersenii reflects limited transmission potential. Proceedings of the National Academy of Sciences. 103(39):14560–14565.
Cagliero, J., Villanueva, S. Y. A. M, Matsui, M. 2018. Leptospirosis pathophysiology: Into the storm of cytokines. Frontiers in Cellular and Infection Microbiology. 8(JUN):1–8.
Chaiwattanarungruengpaisan, S., Suwanpakdee, S., Sangkachai, N., Chamsai, T., Taruyanon, K., Thongdee, M. 2018. Potentially pathogenic leptospira species isolated from a waterfall in Thailand. Japanese Journal of Infectious Diseases. 71(1):65–67.
Chirathaworn, C., Inwattana, R., Poovorawan, Y., Suwancharoen, D. 2014. Interpretation of microscopic agglutination test for leptospirosis diagnosis and seroprevalence. Asian Pacific Journal of Tropical Biomedicine. 4(Suppl 1):S162–S164.
Claus, A., Van De Maele, I., Pasmans, F., Gommeren, K., Daminet, S. 2008. Leptospirosis in dogs: A retrospective study of seven clinical cases in Belgium. Vlaams Diergeneeskundig Tijdschrift. 77(4):259–263.
Ellis, W.A. 2015. Animal Leptospirosis. Volume ke-387. Heidelberg : Springer Berlin Heidelberg.
Evangelista, K. V. and Coburn, J. 2011. Leptospira as an emerging pathogen: a review of its biology, pathogenesis and host immune responses. Future Microbiol. 5(9):1413–1425.
Fink, J. M., Moore, G. E., Landau, R., Vemulapalli, R. 2015. Evaluation of three 5′ exonuclease–based real-time
polymerase chain reaction assays for detection of pathogenic Leptospira species in canine urine. Journal of Veterinary Diagnostic Investigation. 27(2):159–166.
Gasem, M. H., Hadi, U., Alisjahbana, B., Tjitra, E., Hapsari, M. M. D. E. A. H., Lestari, E. S., Aman, A. T., Lokida, D., Salim, G., Kosasih, H., et al., 2020. Leptospirosis in Indonesia: Diagnostic challenges associated with atypical clinical manifestations and limited laboratory capacity. BMC Infectious Diseases. 20(1):1–11.
Geisen, V., Stengel, C., Brem, S., Müller, W., Greene, C., Hartmann, K. 2007. Canine leptospirosis infections - Clinical signs and outcome with different suspected Leptospira serogroups (42 cases). Journal of Small Animal Practice. 48(6):324–328.
Goldstein, R. E. 2010. Canine Leptospirosis. Veterinary Clinics of North America-Small Animal Practice. 40(6):1091–1101.
Goldstein, R. E., Lin, R. C., Langston, C. E., Scrivani, P. V., Erb, H. N., Barr, S. C. 2006. Influence of infecting serogroup on clinical features of leptospirosis in dogs. Journal of Veterinary Internal Medicine. 20(3):489–494.
Greene, C. E. 2012. Infectious Diseases of the Dog and Cat. Ed ke-4. St. Louis. Missouri. USA: Saunders Elsevier Inc.
Greenlee, J. J., Alt, D. P., Bolin, C. A., Zuerner, R. L., Andreasen, C. B. 2005. Experimental canine leptospirosis caused by Leptospira interrogans serovars pomona and bratislava. American Journal of Veterinary Research. 66(10):1816–1822.
Harkin, K. R., Roshto, Y. M., Sullivan, J T., Purvis, T. J., Chengappa, M. M. 2003. Comparison of polymerase chain reaction assay, bacteriologic culture, and serologic testing in assessment of prevalence of urinary shedding of leptospires in dogs. Journal of the American Veterinary Medical Association. 222(9):1230–1233.
Jimenez-Coello, M., Vado-Solis, I., Cárdenas-Marrufo, M. F., Rodríguez-Buenfil, J. C., Ortega-Pacheco, A. 2008. Serological survey of canine leptospirosis in the tropics of Yucatan Mexico using two different tests. Acta Tropica. 106(1):22–26.
Johnson, D. I. and Johnson, D. I. 2018. Leptospira spp. Bacterial Pathogens and Their Virulence Factors. 289–294.
Klaasen, H. L. B. M., Molkenboer, M. J. C. H., Vrijenhoek, M. P., Kaashoek, M. J. 2003. Duration of immunity in dogs vaccinated against leptospirosis with a bivalent inactivated vaccine. Veterinary Microbiology. 95(1–2):121–132.
Ko, A. I., Goarant, C., Picardeau, M. 2009. Leptospira: the dawn of the molecular genetics era for an emerging zoonotic pathogen. Nat Rev Microbiol. 7(10):736–747.
Kohn, B., Steinicke, K., Arndt, G., Gruber, A. D., Guerra, B., Jansen, A., Klopfleisch, R., Lotz, F., Luge, E., No, K. 2010. Pulmonary Abnormalities in Dogs with Leptospirosis. J Vet Intern Med. 24(6):1277–1282.
Koizumi, N., Muto, M. M., Akachi, S., Okano, S., Yamamoto, S., Horikawa, K., Harada, S., Funatsumaru, S., Ohnishi, M. 2013. Molecular and serological investigation of Leptospira and leptospirosis in dogs in Japan.
Journal of Medical Microbiology. 62(PART4):630–636.
Fraune, K.C., Schweighauser, A., Francey, T. 2013. Evaluation of the diagnostic value of serologic microagglutination testing and a polymerase chain reaction assay for diagnosis of acute leptospirosis in dogs in a referral center. Journal of the American Veterinary Medical Association. 242(10):1373–1380.
Kurilung, A., Chanchaithong, P., Lugsomya, K., Niyomtham, W., Wuthiekanun, V., Prapasarakul, N. 2017. Molecular detection and isolation of pathogenic Leptospira from asymptomatic humans, domestic animals and water sources in Nan province, a rural area of Thailand. Research in Veterinary Science. 115(March):146–154.
Kusmiyati, Noor, S. M., Supar. 2005. Animal and human Leptospirosis in Indonesia. Wartazoa. 15(4):213–9.
Levett, P. N., Branch, S. L., Whittington, C. U., Edwards, C. N., Paxton, H. 2001. Two methods for rapid serological diagnosis of acute leptospirosis. Clinical and Diagnostic Laboratory Immunology. 8(2):349–351.
Lizer, J., Grahlmann, M., Hapke, H., Velineni, S., Lin, D., Kohn, B. 2017. Evaluation of a rapid IgM detection test for diagnosis of acute leptospirosis in dogs. Veterinary Record. 180(21):517-521
Major, A., Schweighauser, A., Francey, T. 2014. Increasing incidence of canine leptospirosis in Switzerland. International Journal of Environmental Research and Public Health. 11(7):7242–7260.
Mastrorilli, C., Dondi, F., Agnoli, C., Elena, T. M., Vezzali, E., Gentilini, F. 2007. Clinicopathologic Features and Outcome Predictors of Leptospira Interrogans Australis Serogroup Infection in Dogs: A Retrospective Study of 20 Cases (2001–2004). Journal of Veterinary Internal Medicine. 21(1):3-10
Matthias, M. A., Ricaldi, J. N., Cespedes, M., Diaz, M. M., Galloway, R. L., Saito, M., Steigerwalt, A. G., Patra, K. P., Ore, C. V., Gotuzzo, E., et al., 2008. Human leptospirosis caused by a new, antigenically unique Leptospira associated with a Rattus species reservoir in the Peruvian Amazon. PLoS Neglected Tropical Diseases. 2(4):1-12.
Meeyam, T., Tablerk, P., Petchanok, B., Pichpol, D., Padungtod, P. 2006. Seroprevalence and risk factors associated with leptospirosis in dogs. Southeast Asian Journal of Tropical Medicine and Public Health. 37(1):148–153.
Miraglia, F., De Moraes, Z. M., Melville, P. A., Dias, R. A., Vasconcellos, S. A. 2009. Emjh medium with 5-fluorouracil and nalidixic acid associated with serial dilution technique used to recover leptospira spp from experimentally contaminated bovine semen. Brazilian Journal of Microbiology. 40(1):189–193.
Mishima, N., Tabuchi, K., Kuroda, T., Nakatani, I., Lamaningao, P., Miyake, M, Kanda, S., Koizumi, N., Nishiyama, T. 2013. The first case in Japan of severe human leptospirosis imported from Vietnam. Tropical Medicine and Health. 41(4):171–176.
Mohammed, H., Nozha, C., Hakim, K., Abdelaziz, F. 2011. LEPTOSPIRA: Morphology, Classification and Pathogenesis. Journal of Bacteriology & Parasitology. 02(06):6–9.
Mulyani, G. T., Hartati, S., Santoso, Y., Kurnia, K., Pramono, A. B., Wirapratiwi, D. K. 2017. Kejadian Leptospirosis pada Anjing di Daerah Istimewa Yogyakarta. Jurnal Veteriner. 18(3):403-408.
Mulyani, G. T., Hartati, S., Wuryastuty, H., Tjahajati, I., Yuriadi, Y., Widiyono, I., Yanuartono, Y., Purnamaningsih, H., Indarjulianto, S., Raharjo, S., et al., 2019. Identifikasi Serovar Penyebab Leptospirosis pada Anjing di Yogyakarta. Jurnal Sain Veteriner. 37(2):227-231.
Musso, D. and La Scola, B. 2013. Laboratory diagnosis of leptospirosis: A challenge. Journal of Microbiology, Immunology and Infection. 46(4):245–252.
Mutawadiah, Puja I. K. P., Dharmawan N. S. 2015. Seroprevalensi Leptospirosis pada Anjing Kintamani di Bali Seroprevalence of Leptospirosis in Kintamani Dog in Bali. Jurnal Ilmu dan Kesehatan Hewan. 3(2):41–44.
Prasetyo, D. and Pamungkas, K. N. I. N. 2018. Suspect leptospirosis pada anjing lokal mix. ARSHI Veterinary Letters. 2(4):75-76.
Pui, C. F., Bilung, L. M., Apun, K., Su'ut, L. 2017. Diversity of Leptospira spp. in Rats and Environment from Urban Areas of Sarawak, Malaysia. Journal of Tropical Medicine. 2017:1-8.
Putro, D. B. W., Ristiyanto, R., Mulyono, A., Handayani, F. D., Joharina, A. S. 2016. Deteksi Leptospira Patogenik pada Urin Anjing dengan Polymerase Chain Reaction (PCR) di Kota Semarang. Vektora : Jurnal Vektor dan Reservoir Penyakit. 8(1):7–12.
Ramadhani, T. dan Yunianto, B. 2012. Reservoir dan Kasus Leptospirosis di Wilayah Kejadian Luar Biasa. Kesmas: National Public Health Journal. 7(4):162-168.
Rosa, M. I., dos Reis, M. F., Simon, C., Dondossola, E., Alexandre, M. C., Colonetti, T., Meller, F. O. 2017. ELISA IgM para diagnóstico de leptospirose: Revisão sistemática e meta-análise. Ciencia e Saude Coletiva. 22(12):4001–4012.
Saito, M., Villanueva, S. Y. A. M., Chakraborty, A., Miyahara, S., Segawa, T., Asoh, T., Ozuru, R., Gloriani, N. G., Yanagihara, Y., Yoshida, S. I. 2013. Comparative analysis of Leptospira strains isolated from environmental soil and water in the Philippines and Japan. Applied and Environmental Microbiology. 79(2):601–609.
Samrot, A. V., Sean, T. C, Bhavya, K. S., Sahithya, C. S., Chandrasekaran, S., Palanisamy, R., Robinson, E. R., Subbiah, S. K., Mok, P. L. 2021. Leptospiral infection, pathogenesis and its diagnosis—a review. Pathogens. 10(2):1–30.
dos Santos, L. F., Guimarães, M. F., de Souza, G. O., da Silva, I. W. G., Santos, J. R., Azevedo, S. S., Labruna, M. B., Heinemann, MB., Horta, M. C. 2017. Seroepidemiological survey on Leptospira spp. infection in wild and domestic mammals in two distinct areas of the semi-arid region of northeastern Brazil. Tropical Animal Health and Production. 49(8):1715–1722.
Schuller, S., Francey, T., Hartmann, K., Hugonnard, M., Kohn, B., Nally, J. E., Sykes, J. 2015. European consensus statement on leptospirosis in dogs and cats. Journal of Small Animal Practice. 56(3):159–179.
Shafighi, T., Zahraei, Salehi, T., Abdollahpour, G., Asadpour, L.,
Akbarein, H., Salehzadeh, A. 2014. Molecular detection of Leptospira spp. in the urine of cattle in northern Iran. Iranian Journal of Veterinary Research. 15(4):402–405.
Sumanth, K. R., Pillai, R. M., Mukhopadhyay, H. K., Antony, P. X., Thanislass, J., Vivek, S. V. M., Vishnupriya S. 2013. Seroepidemiology of canine leptospirosis by iELISA and MAT. Veterinary World. 6(11):926–930.
Sykes, J. E., Hartmann, K., Lunn, K. F., Moore, G. E., Stoddard, R. A., Goldstein, R. E. 2011. 2010 ACVIM Small Animal Consensus Statement on Leptospirosis: Diagnosis, Epidemiology, Treatment, and Prevention. Journal of Veterinary Internal Medicine. 25(1):1–13.
Thibeaux, R., Geroult, S., Benezech, C., Chabaud, S., Soupé-Gilbert, M. E., Girault, D., Bierque, E., Goarant, C. 2017. Seeking the environmental source of Leptospirosis reveals durable bacterial viability in river soils. PLoS Neglected Tropical Diseases. 11(2):1–14.
Townsend, W. M., Stiles, J., Krohne, S. G. 2006. Leptospirosis and panuveitis in a dog. Veterinary Ophthalmology. 9(3):169–173.
Villumsen, S., Pedersen, R., Krogfelt, K. A., Jensen, J. S. 2010. Expanding the diagnostic use of PCR in leptospirosis: Improved method for DNA extraction from blood cultures. PLoS ONE. 5(8):1-7.
Ward, M. P., Guptill, L. F., Prahl, A., Wu, C. C. 2004. Serovar-specific prevalence and risk factors for leptospirosis among dogs: 90 Cases (1997-2002). Journal of the American Veterinary Medical Association. 224(12):1958–1963.
Winaya, I. B. O., Berata, I. K., Kardena, I. M., Adi, A. A. A. M., Rompis, A. L. T. 2018. Gambaran Histopatologi Hati dan Ginjal Anjing Terduga Leptospirosis di Kota Denpasar. Jurnal Veteriner. 19(2):298-302.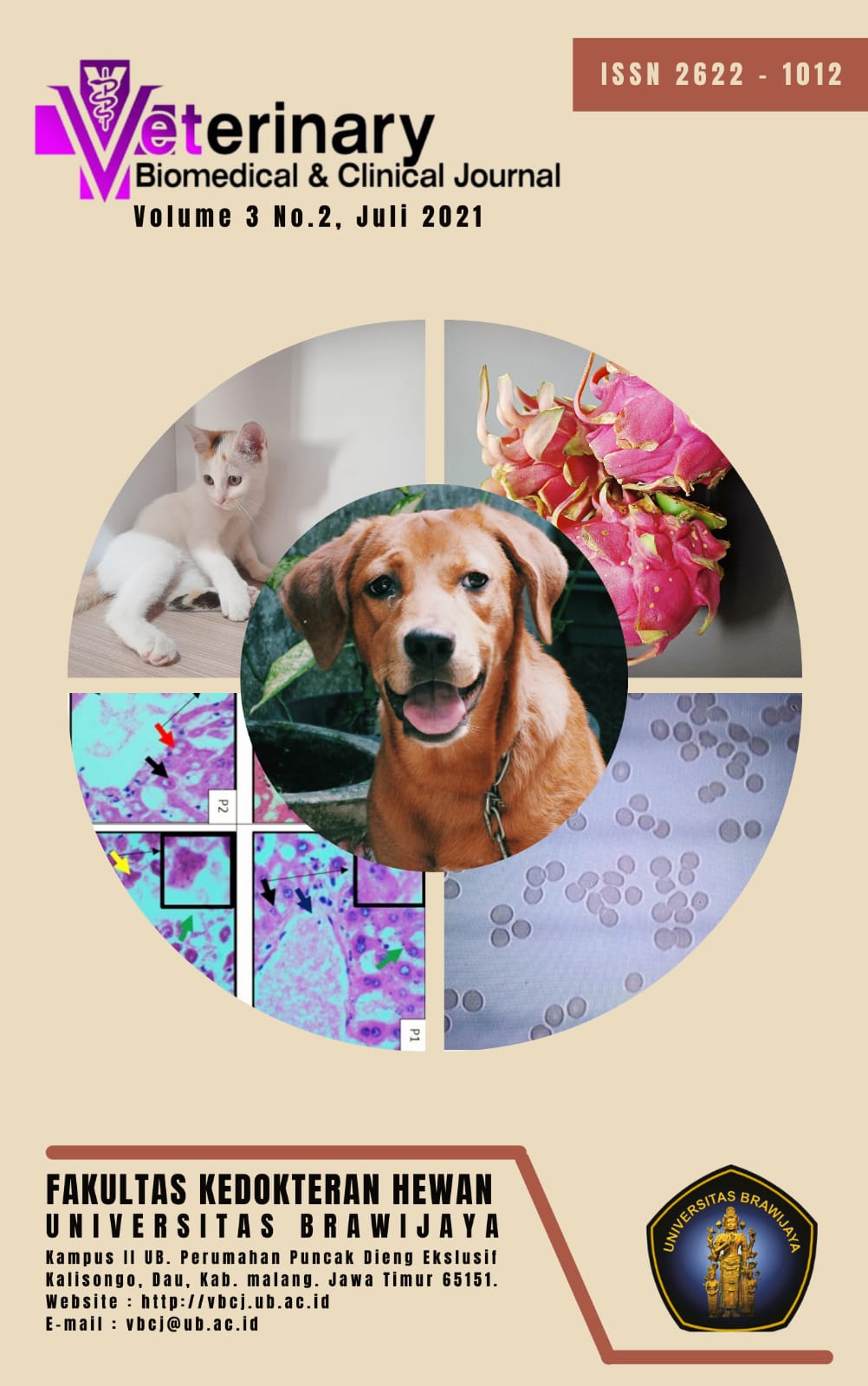 Downloads
How to Cite
Wiyata, R. P. K. T., & Nugroho, W. (2021). Review: Leptospirosis in Dogs in Indonesia. Veterinary Biomedical and Clinical Journal, 3(2), 7–22. https://doi.org/10.21776/ub.VetBioClinJ.2021.003.02.2