Treatmant of Malunion Comminuted Fracture Os Tibia in Maltese Dog
Penanganan Kasus Malunion Comminuted Fracture Os Tibia pada Anjing Maltese
Keywords:
Dog, Comminuted, Fracture, Malunion, Tibia
Abstract
A comminuted fracture is a type of fracture where the affected bone is divided into three or more pieces of different sizes. Improper handling of fractures can potentially lead to malunion and chronic pain. In malunion, the fractured bones are fused but in an abnormal position. Malunion occurs due to inaccurate bone reduction or excessive mobilization during the healing period. The purpose of this article is to describe a surgical method in handling a case of comminuted fracture of the tibia in a dog. A Maltese dog, 3 kg weight, was brought to the clinic due to gait immobility with lifting the right hind leg and limping. In the previous month, the dog suffered from a comminuted fracture of the right tibia and had been treated with plates and screws. During the physical examination, the dog showed good general condition, while the rear right leg was raised. Radiographic results at the medio-lateral and caudo-cranial projection showed the malunion bone due to a shift in the fracture fragment of the diaphysis of right tibia after plate and screw implantation in the comminuted fracture. In the present correction, the plate and screw were replaced by intra-medullary pins combined with wire implementing the Open Reduction and Internal Fixation (ORIF) method. Atropine sulfate premedication was given subcutaneously at 0.02 mg/kgBW. Anesthesia was induced using a combination of 10% ketamine and 2% xylazine, and maintained by a 2% isoflurane inhalation. Postoperative therapy given included Penicillin Procaine G®, Dexamethasone® (0.5 mg/kgBW,IM), Tramadol® (5 mg/kgBW,IM), Viccillin® (10 mg/kgBW,IM), and Cyanocobalamin® (100 mcg/ kgBW, IM). There was no postoperative complication observable, and the patient was brought home on the third day post-surgery when its affected feet was able to touch the floor. The study showed that ORIF method could be performed to correct malunion in a case of comminuted tibia fracture.
References
Andalib, A., Javdan, M., & Fattahi, F. (2007). Spine deformity View project Trauma View project Biological plating of comminuted fractures of femur and tibia. In Article in Journal of Research in Medical Sciences, 12(4), 186-189.
DeCamp, C. E. (2015). Piermattei and Flo's handbook of small animal orthopedics and fracture repair. Elsevier Health Sciences.
Dewi, A. A. R. I., & Pemayun, I. G. A. G. P. (2020). Laporan Kasus: Penanganan Patah Miring pada Tulang Kering dan Tulang Betis Kanan pada Anjing Persilangan. Indonesia Medicus Veterinus, 9(2), 206–218. https://doi.org/10.19087/imv.2020.9.2.206
Eiff, M. P., & Hatch, R. (2018). Fracture Management for Primary Care and Emergency Medicine. Elsevier.
Fossum, T. W. (2018). Small Animal Surgery (5th ed.). Elsevier.
Glyde, M., Arnett, R., & Arnett, D. R. (2006). Tibial fractures in the dog and cat: Options for management Assessment View project medical education View project Tibial fractures in the dog and cat: options for management. Irish Veterinary Journal, 59(5), 290–295.
Jain, R., Parihar, A. S., Kamble, S., Parihar, Y. S., & Ganguly, S. (2016). Multiple Fractures in Tibia Bone of Dog: A Case Study. International Journal of Contemporary Microbiology, 2(1), 82. https://doi.org/10.5958/2395-1796.2016.00019.3
Johnson, D. B., Lopez, M. J., & Kelley, B. (2018). Dexamethasone.
Langley-Hobbs, S., & Harcourt-Brown, N. (2013). Fracture management. In BSAVA manual of rabbit surgery, dentistry and imaging (pp. 283-304). BSAVA Library.
Minar, M., Hwang, Y., Park, M., Kim, S., Oh, C., Choi, S., & Kim, G. (2013). Retrospective study on fractures in dogs. Journal of Biomedical Research, 14(3), 140–144. https://doi.org/10.12729/jbr.2013.14.3.140
Papich, M. G. (2015). Saunders handbook of veterinary drugs-e-book: small and large animal. Elsevier Health Sciences.
Patel, I., Young, J., Washington, A., & Vaidya, R. (2022). Malunion of the Tibia: A Systematic Review. In Medicina (Lithuania), 58(3), 389. https://doi.org/10.3390/medicina58030389
Plumb, D. C. (. (2018). Plumb's Veterinary Drug Handbook: Desk. John Wiley & Sons.
Singh, R., Chandrapuria, V. P., Shahi, A., Bhargava, M. K., Swamy, M., & Shukla, P. C. (2015). Fracture Occurrence Pattern in Animals. Journal of Animal Research, 5(3), 611. https://doi.org/10.5958/2277-940x.2015.00103.5
Soetisna, A., & Soeharno, B. (2015). Indeks Obat Hewan Indonesia (IOHI). Asosiasi Obat Hewan Hewan Indonesia.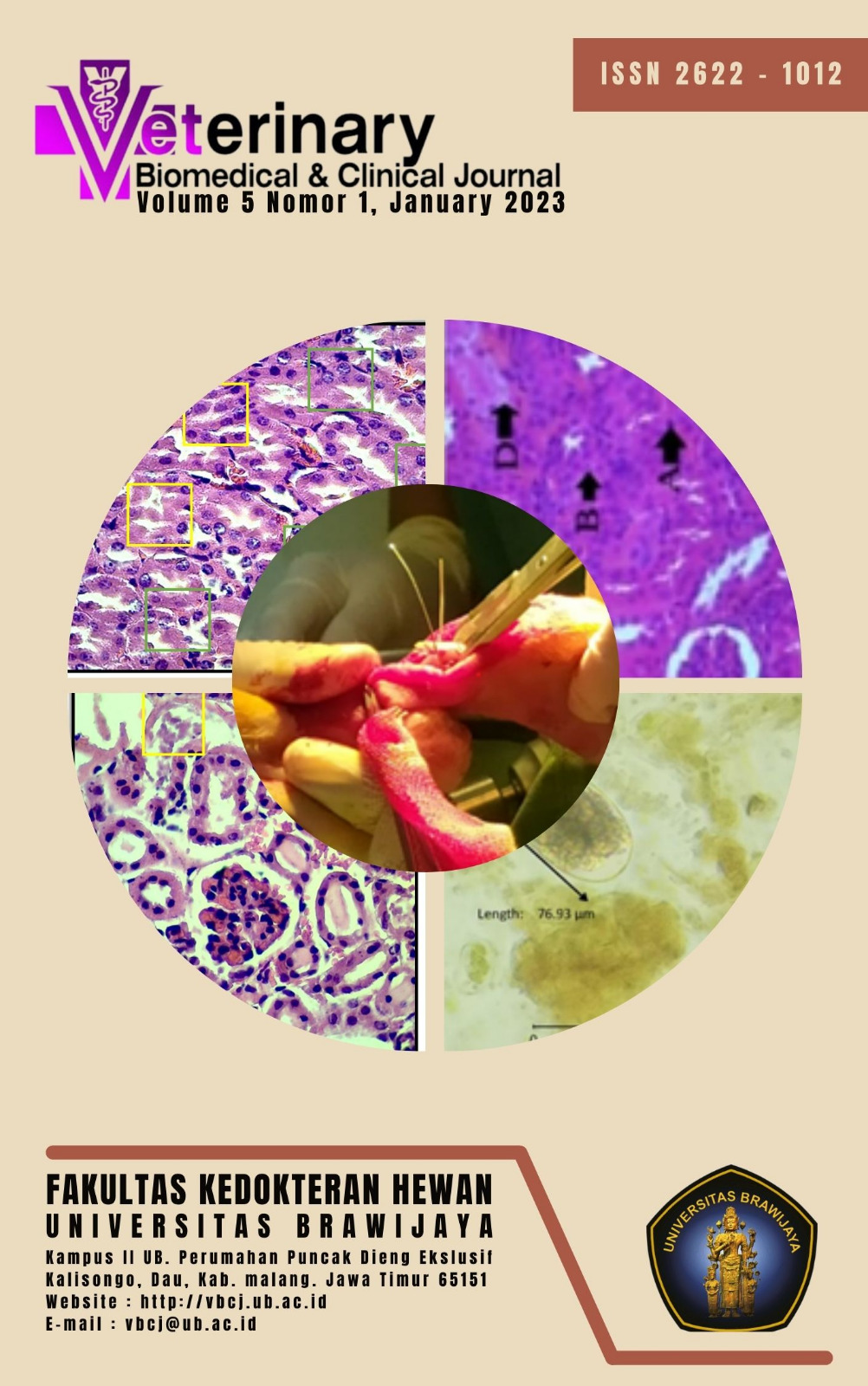 Downloads
How to Cite
Putri, N. A. S., Rudi H. Panggabean, & Vidiastuti, D. (2023). Treatmant of Malunion Comminuted Fracture Os Tibia in Maltese Dog: Penanganan Kasus Malunion Comminuted Fracture Os Tibia pada Anjing Maltese. Veterinary Biomedical and Clinical Journal, 5(1), 1–10. https://doi.org/10.21776/ub.VetBioClinJ.2023.005.01.1
License
Copyright (c) 2023 Novi Aprilia Shania Putri, Rudi H. Panggabean, Dian Vidiastuti
This work is licensed under a Creative Commons Attribution-NonCommercial 4.0 International License.