Effect of Oregano (Origanum vulgare) Extract on Kidney Histomorphometry and Histopathology in Mice (Mus musculus) Colibacillosis Model
Pengaruh Pemberian Ekstrak Oregano (Origanum vulgare) terhadap Histomorfometri dan Histopatologi Ginjal pada Mencit (Mus musculus) Model Kolibasilosis
Keywords:
antibacterial, E. coli, kidney, oregano extract
Abstract
Colibacillosis is a disease that infects the digestive tract due to infection with the pathogen Escherichia coli. E. coli is able to cause bacteremia so that E. coli can reach the kidney through blood flowing to the kidney. To reduce the side effects of treatment using antibiotics, the herbal medicine oregano (Origanum vulgare) which contains phenols (carvacrol and thymol) works as an antibacterial. The benefits of this research are as a source of information and the basis for further research related to the use of oregano extract in the treatment of colibacillosis due to E. coli infection. The study used 20 male mice, divided into 5 applicable groups, namely K-, healthy mice were not given any treatment; K+ was induced by Streptomycin 20 mg and infected with E.coli 3 x 109 CFU/ml, 0.5 ml; P1 was induced by Streptomycin 20 mg and infected with E.coli 3 x 109 CFU/ml, 0.5 ml + Origanum vulgare extract 25 mg/kg; P2 was induced by Streptomycin 20 mg and infected with Escherichia coli 3 x 109 CFU/ml, 0.5ml + Origanum vulgare extract 50mg/kg; P3 was induced by Streptomycin 20 mg and infected with E.coli 3 x 109 CFU/ml, 0.5 ml + Origanum vulgare extract 100 mg/kg. Kidney was taken for histopathological preparations with hematoxylin eosin (HE) staining. After that, it was analyzed using Kruskal Wallis and continued with Mann Whitney. Histomorphometry semiquantitative measures the width of the Bowman's glomerular capsule and the length of the tubular lumen and then analyzed using One Way Analysis of Variance (ANOVA). The results of this study showed that oregano extract had an effect on histomorphometry and histopathology of renal, with an optimal dose is 5 mg/mice.
References
Alsuwaida, A., Husain, S., Al Ghonaim, M., Alobaili, S., Alwakeel, J., Al Sehli, R., Askar, A., Tarakji, A., & Kfoury, H. (2015). Glomerular necrotic lesions and long-term outcomes among patients with proliferative lupus nephritis. In Int J Clin Exp Pathol, 8 (5), 5787-5792.
Arimbi, Azmijah, A., Darsono, R., Plumeriastuti, H., Widiyanto, T. V., & Legowo, D. (2015). Buku Ajar Patologi Umum Veteriner. Airlangga University Press.
Betancourt, L., Phandanauvong, V., Patiño, R., Ariza-Nieto, C., & Afanador-Téllez, G. (2012). Composition and Bactericidal Activity Against Beneficial and Pathogenic Bacteria of Oregano Essential Oils from Four Chemotypes of Origanum and Lippia genus. Rev. Med. Vet. Zoot, 59(1), 21–31.
Fardin, & Sarina. (2017). The Effect of Leaf Extract Oregano (Origanum vulgare) Bioavailability of Diazepam Tablets in Mice Pengaruh Pemberian Ekstrak Daun Oregano (Origanum vulgare) Terhadap Bioavailabilitas Tablet Diazepam pada Mencit. Majalah Farmasi, 14(01), 53–58.
Hidayat, R., Busman, H., & Nurcahyani, N. (2013). Histopatologi Ginjal Mencit (Mus musculus L.) Jantan Akibat Radiasi Cahaya Lampu Merkuri. Jurnal Ilmiah: Biologi Eksperimen Dan Keanekaragaman Hayati, 1(2) 78–82.
Hrnčič, M. K., Cör, D., Simonovska, J., Knez, Ž., Kavrakovski, Z., & Rafajlovska, V. (2020). Extraction techniques and analytical methods for characterization of active compounds in origanum species. Molecules, 25(20). https://doi.org/10.3390/molecules25204735
Isma, A., Amin, L., Karang Agustina, K., Suardana, W., Profesi, M. P., Hewan, D., Kesehatan, B., & Veteriner, M. (2015). Faktor Risiko Infeksi Escherichia coli O157:H7 pada Sapi Bali di Petang, Badung, Bali. Indonesia Medicus Veterinus Juni, 4(3), 213–227.
Lagho, E. E., Made Kardena, I., Agung, A., Jayawardhita, G., Profesi, M., Hewan, D., Veteriner, L. P., Bedah, L., Fakultas, V., Hewan, K., Udayana, U., Sudirman, J. P. B., & Bali, D. (2017). Gambaran Histopatologi Ginjal Tikus Putih (Rattus norvegicus) yang Diberi Amoxicillin Dikombinasikan dengan Deksametason dan Asam Mefenamat Pasca Operasi. Indonesia Medicus Veterinus Agustus, 6(4), 262–269. https://doi.org/10.19087/imv.2017.6.4.262
Stecher, B., Macpherson, A. J., Hapfelmeier, S., Kremer, M., Stallmach, T., & Hardt, W. D. (2005). Comparison of Salmonella enterica serovar typhimurium colitis in germfree mice and mice pretreated with streptomycin. Infection and Immunity, 73(6), 3228–3241. https://doi.org/10.1128/IAI.73.6.3228-3241.2005
Sudira, W., Merdana, M., Winaya, I. B. O., & Parnayasa, I. K. (2019). Perubahan Histopatologi Ginjal Tikus Putih yang diberikan Ekstrak Sarang Semut diinduksi Parasetamol Dosis Toksik. Buletin Veteriner Udayana, 11(2), 136-142. https://doi.org/10.24843/bulvet.2019.v11.i02.p05
Suntres, Z. E., Coccimiglio, J., & Alipour, M. (2015). The Bioactivity and Toxicological Actions of Carvacrol. Critical Reviews in Food Science and Nutrition, 55(3), 304–318. https://doi.org/10.1080/10408398.2011.653458
Williamson, E., Driver, S., & Baxter. (2009). Stockley's Herbal Medicine Interractions. Pharmaceutical Press.
Wu, X., Zhang, W., Ren, H., Chen, X., Xie, J., & Chen, N. (2014). Diuretics associated acute kidney injury: Clinical and pathological analysis. Renal Failure, 36(7), 1051–1055. https://doi.org/10.3109/0886022X.2014.917560
Zulfadli, Wijayanti, N., & Retnoaji, B. (2016). Perkembangan Ovarium Ikan Wader Pari (Rasbora lateristriata Bleeker, 1854): Pendekatan Histologi. Jurnal Perikanan Tropis, 3(1), 32–39.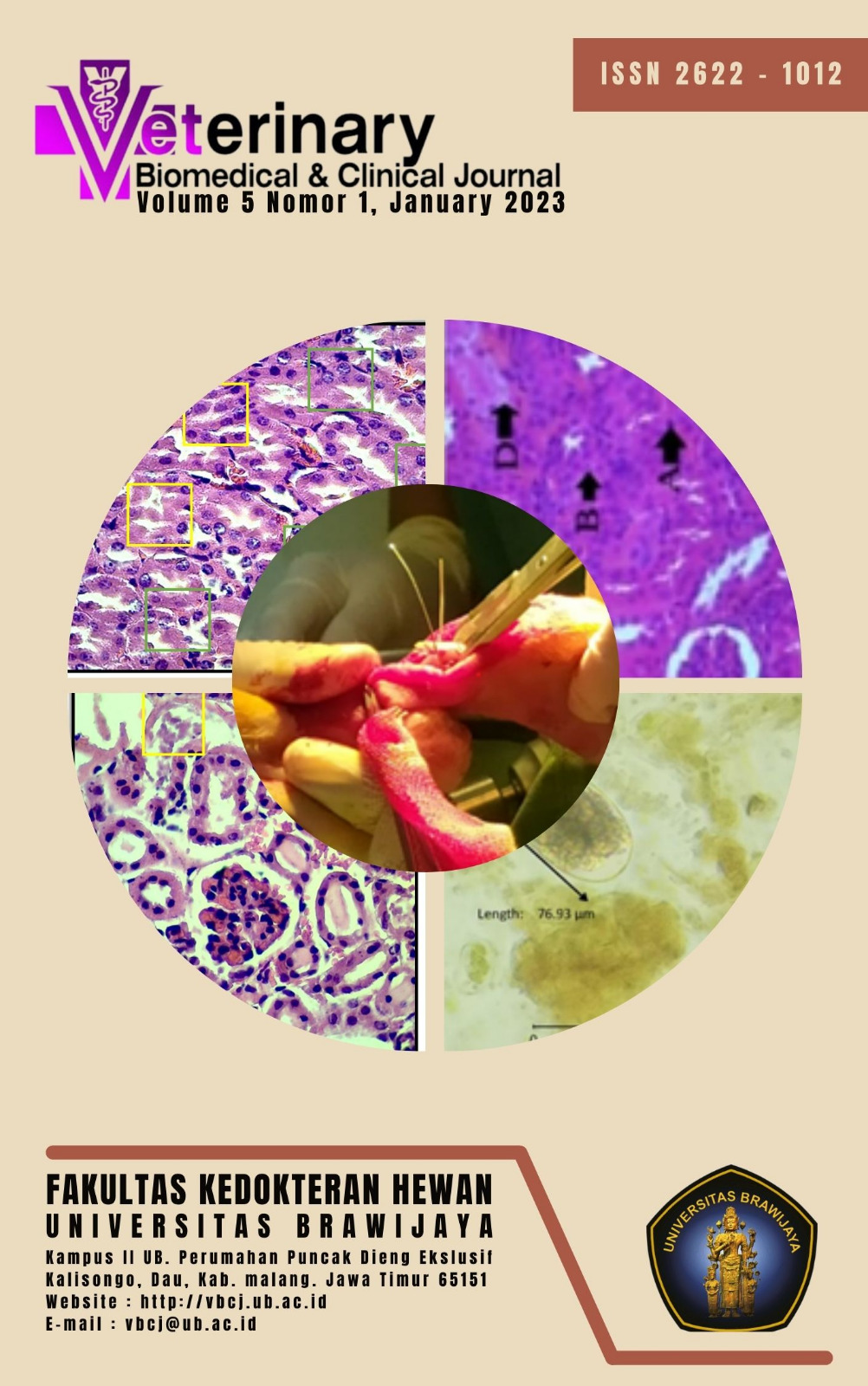 Downloads
How to Cite
Alviano, B. F. R., & Amri, I. A. (2023). Effect of Oregano (Origanum vulgare) Extract on Kidney Histomorphometry and Histopathology in Mice (Mus musculus) Colibacillosis Model: Pengaruh Pemberian Ekstrak Oregano (Origanum vulgare) terhadap Histomorfometri dan Histopatologi Ginjal pada Mencit (Mus musculus) Model Kolibasilosis. Veterinary Biomedical and Clinical Journal, 5(1), 25–34. https://doi.org/10.21776/ub.VetBioClinJ.2023.005.01.4
License
Copyright (c) 2023 Bian Febry Rohmana Alviano, Indah Amalia Amri
This work is licensed under a Creative Commons Attribution-NonCommercial 4.0 International License.