Yolk Binding Treatment for Reticulated Python in House of Pet Clinic
Penanganan Kasus Yolk Binding Pada Ular Sanca batik (Python reticulatus) di Klinik House of Pet
Keywords:
Python reticulatus, Yolk binding.
Abstract
Yolk binding is a condition where the egg yolk as food reserves while the snake still in the egg phase is not
completely absorbed in the snake's body when the snake has become neonatal. This study aims to
determine the handling of cases of yolk binding in Python reticulatus. A 3-month-old female Python
reticulatus was brought by the owner to the vet with complaints of not defecating after ten days from the
last feeding on and the presence of a ¼ lump from the caudal. The results of the stool examination
showed the number of protozoa. The x-ray results, show the air-filled medial with radiolucent color
intensity and a mass with radioopaque color intensity. Based on the signals, history, physical examination,
and investigations, a diagnosis of yolk binding was obtained. The treatment given is surgery, drug therapy,
and post-operative care. After being brought home, five days after surgery snake died.
References
Bierer, B. W. 1950. Avian Navel Infection. Veterinary Medicine , 45: 447-450.
Bodri, M., Hendrick, M., O'Brien, R., and Sadanaga, R. 1990. Retained Caseous Yolk Sac in Brumese Python (Python molurus bivittatus). Journal of Wildlife Disease, 26 (4): 564-566.
Coughlin, P., and Strunk, A. 2016. How To Keep Your Ball Python Healthy, Happy, and Safe. USA: The North American Veterinary Community.
Divers, J. S., and Stahl, S. J. 2019. Mader's Reptile and Amphibian Medicine and Surgery Third Ed. Missouri: Elsevier.
Doneley, B., Monks, D., Johnson, R., and Carmel, B. 2018. Reptile Medicine and Surgery in Clinical Practice. First ed. Oxford: Wiley Blackwell.
Hasibuan, C. F., Rahmiati, dan Nasution, J. 2018. Pembuatan Virgin Coconut Oil (VCO) dengan Menggunakan Cara Tradisiona. Jurnal Pengabdian Masyarakat, 1(3).
Jacobson, E. R. 2007. Infectious Diseases and Pathology of Reptiles Color Atlas and Text. USA: CRC Press.
Matswapati, D. 2009. Biologi Reproduksi Ular Sanca Batik (Python reticulatus). [Skripsi]. Bogor: Fakultas Kedokteran Hewan Institut Pertanian Bogor.
Plumb, D. C. 2018. Veterinary Drug Handbook 9th Edition. USA: Blackwell Publishing.
Sukmawati, N. M. 2016. Bioenergitika. Denpasar: Fakultas Peternakan, Universitas Udayana.
Winarno, G. D , G., and Harianto, S. 2018. Perilaku Satwa Liar (Ethology). Indonesia: AURA: Anugrah Utama Raharja.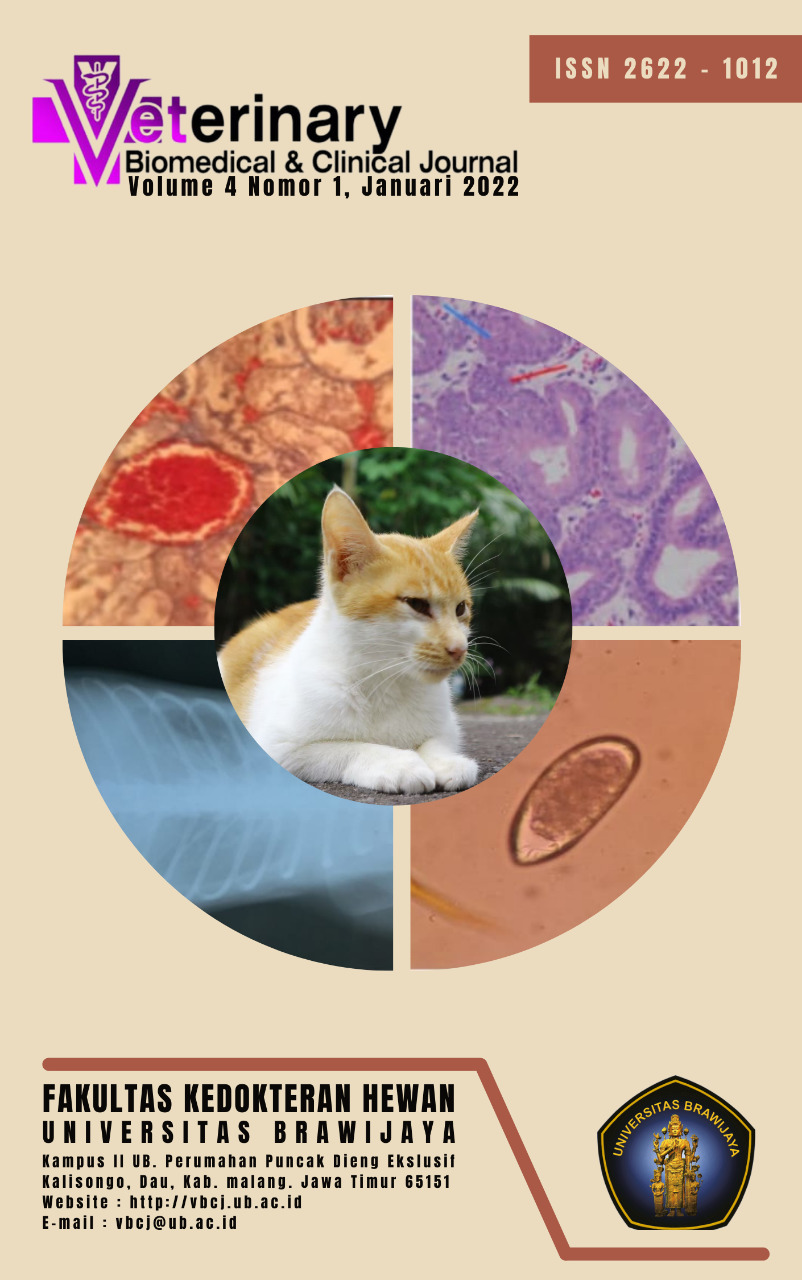 Downloads
How to Cite
Isnaeni, I. K., Setianingrum, A., Hardian, A. B. ., Yesica, R. ., & Herlambang, A. N. . (2022). Yolk Binding Treatment for Reticulated Python in House of Pet Clinic: Penanganan Kasus Yolk Binding Pada Ular Sanca batik (Python reticulatus) di Klinik House of Pet. Veterinary Biomedical and Clinical Journal, 4(1), 38–45. https://doi.org/10.21776/ub.VetBioClinJ.2022.004.01.6
License
Copyright (c) 2022 Intan Kirana Isnaeni, Ani Setianingrum, Andreas Bandang Hardian, Reza Yesica, Anugrah Niki Herlambang
This work is licensed under a Creative Commons Attribution-NonCommercial 4.0 International License.